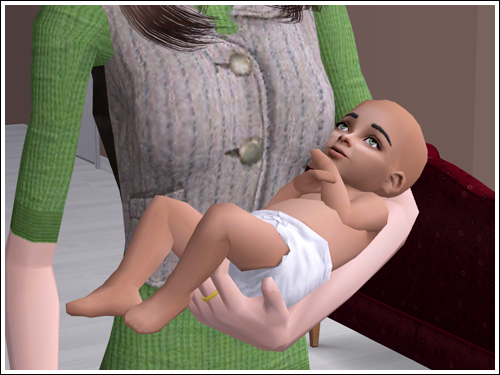 Oh look! It's a boy,
Aaron
he has his mom's eyes, Alon's hair color and a mixture of their skin
I changed Alon's aspiration and he is romance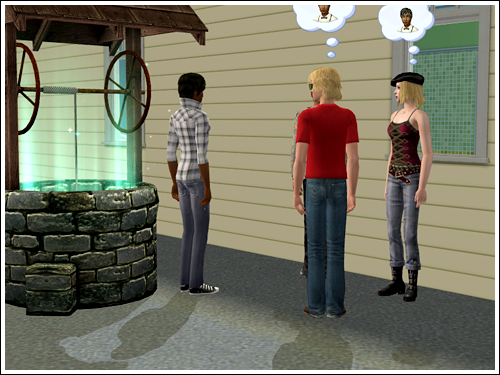 I totally just lied to you all! HA. He wanted 5 best friends, eh.
OH WTF TOWNIE, NO. Alon isn't supposed to cheat! Especially with you.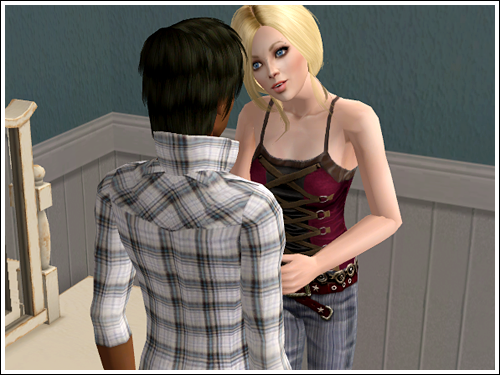 I gave her a makeover, and she's actually kind of pretty.
She's a very good mother to my suprise!
But then she was like "Hold Youngster" and I xed and then she got him out anyways and then she put him on the floor to go woohoo with Alon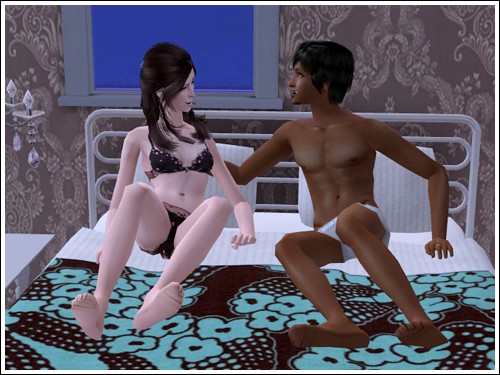 See? I don't lie.
Anderson
:
DO NOT WANT!
*woohoo's anyways*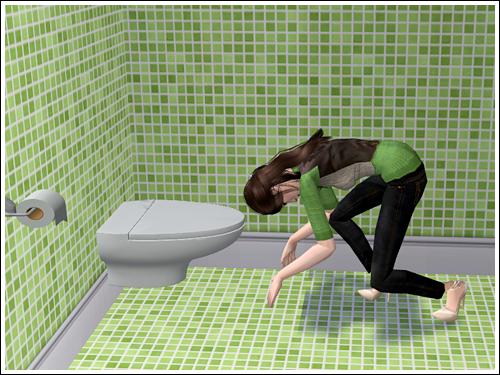 Ramming your head into the toilet will not make your morning sickness go away!
YOU CUT THEM BUSHES, SON!
Anderson
:
*thinks about Alon*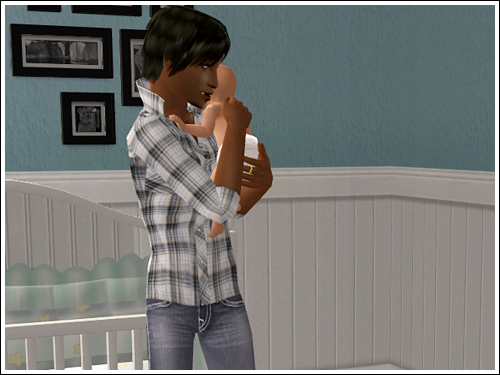 He's a good daddy too (:
He also dances like there's no tommorow ( i wouldn't have a stereo if i couldn't put my own music in the game xD )
She popped!
She stuffed her face with this turkey she cooked, good job anderson!
Alon
:
*blows kiss*
Alon
:
I make it rain on them hoez.
Anderson
:
The sun will come out tommorow!
Anderson
:
You CAN'T bet your bottom dollar that!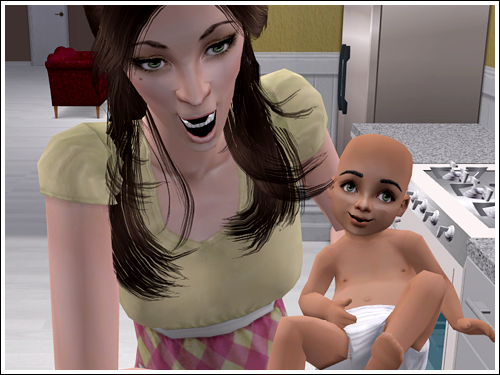 They make these faces all the time, it's so normal.
I LIED! BIRFDAY TIME!!!
Aw! he's adorable, I hate that hair but he's keeping it :D
Alon
:
I'm breakin' faces tonight!
Aaron has 1 nice point, he bangs the crap out of that toy.
POP!
I am sorry that you woke up at 3am and want out of your crib, but look out the window is it bright and sunny? NO, go to sleep.
Anderson looking huge.
Smustle time with the
creepy
nanny!
Shit nanny, i'm sure you've changed a lot of diapers? From them shitting on theirselves because of your FACE.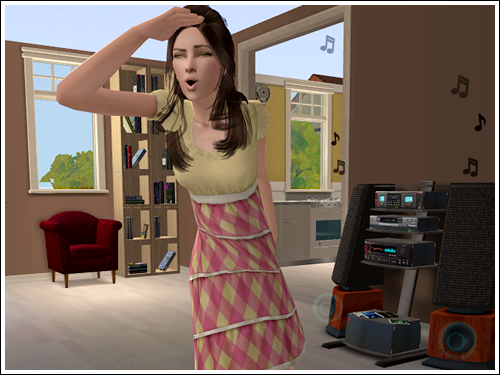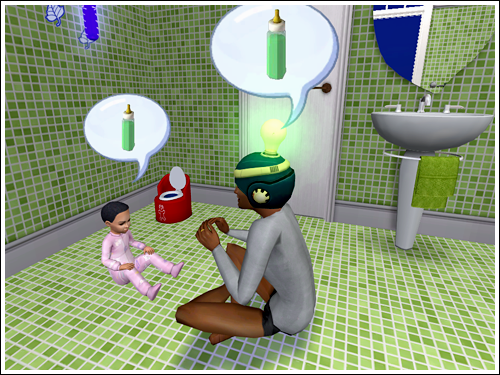 You make me so proud.
That water looks effin boiling hot!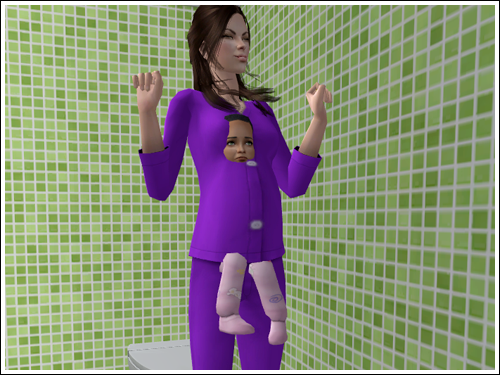 Uhm, you are probably hurting the baby inside and i'm not talking about Aaron!
Alon
:
Hey there baby, i can't wait to see you! Even if you aren't mine, because my wife is such a slutski.
TIME TO HAVE THE BABY!
Another boy,
Aleks
moms skin, eyes, and dads hair color
Lovely, we have twins :l Anyway, meet
Abercrombie
a girl thank
hollywoodism
for the name lmao, with mom's eyes and dad's everything else
Work time, get that promotion!
Uhm the whole "you've been given 3 days off to give the newborn all the love and attention it needs.." Doesn't apply to my game anymore for some reason..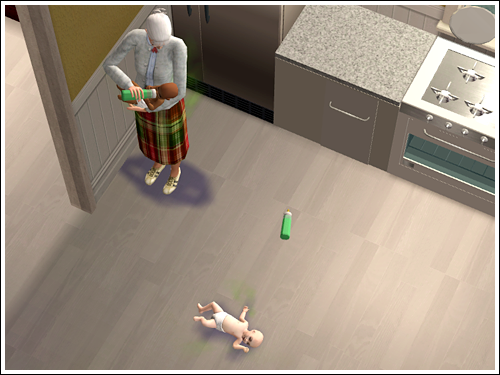 I HATE THE NANNY. All she does is dirty my floor up with bottles and then doesn't clean it up!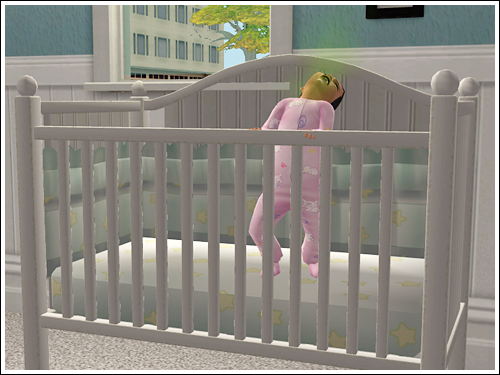 Poor Aaron has to sit in his own poo.
He was so hungry he drank out of a dirty bottle and then threw up.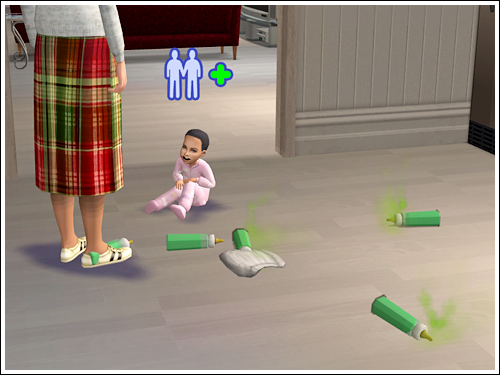 See what I mean? Don't forget about the bottle in her shoe!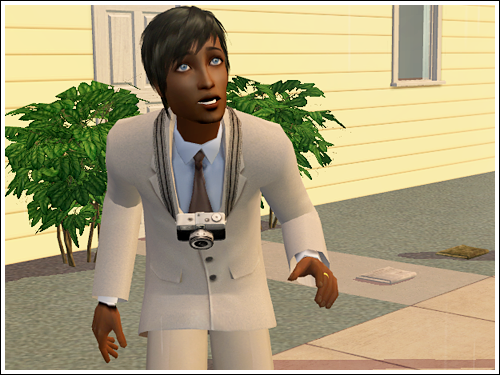 Alon
:
OMG, IT'S RAINING!
And because Anderson is stupid, she trys to force feed to Aleks who just had 10 bottles from the nanny, way to make the children obese!
He fixes everything around the house.
Maybe she thinks she will get a skill with babys?
Lecurting Abercrombie because she made a poopy!?
BIRTHDAY TIME FOR AARON! Oh sup' with Alon's face?
I guess he doesn't like Aaron? YOU'RE SUPPOSED TO HAVE 5 NICE POINTS!
Fly away little one!
Alon
:
Come back soon! ....or don't.
Hm, i don't know how I feel about you.
So Aaron was in his parents dressing room getting clothes, and his parents are woohooing..thanks (ACR).
And then he walked through his parents room and was like "AHH!" and he went all exorcist style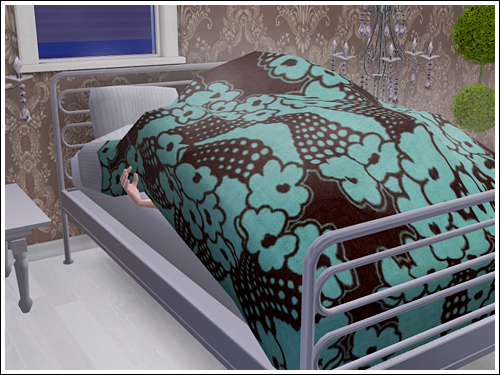 See Andersons hand? All creepy like?
YOU LITTLE SHIT, YOU ARE MAKING A MESS. I'll teach you!!
Yeah! How do you like them apples?
Aaron
:
Want to snuggle?
Anderson
:
OH MUH GAWD, NO!
Omg look at that face! It just tears you apart :/
Then I made her snuggle with him, and it was the cutest thing EVER.
Alon
:
You know with some makeup you'd look even hotter!
She already wears makeup?
Alon
:
And some pink heels too?
Uh, I think he was trying to tell us something with the
pink pajamas
but this is just going too far.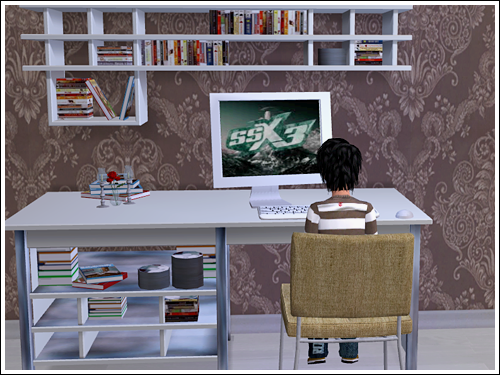 Like mother, like son.
Anderson
:
LIKE OMG I HAVE NEVER SEEN RAIN BEFORE!
Yay!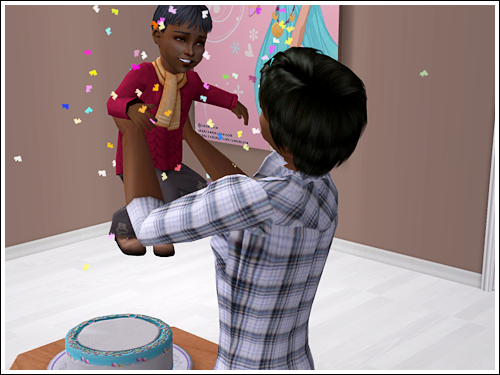 Ooo, Abercrombie that hair is not workin for you.
PLEASE DON'T DROP HIM!
STOP WITH THAT HAIR, and please grow into your face
She's adorable!
YO, ALEKS YOU BE WAKIN' YO SISTA UP FOO.
I will not fall for the face!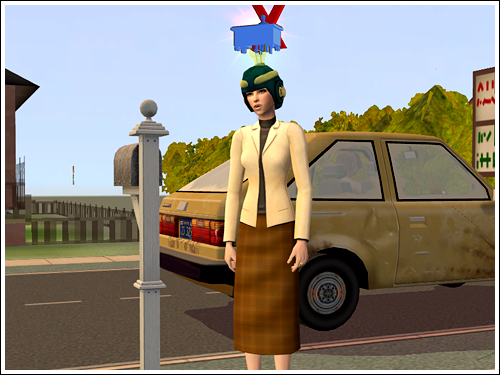 And Anderson got fired...and she wore the thinking cap to work .
HUGH HEFNAHHHHHHHHHHHH!
Aaron
:
EWWW, MOM PUT SOME CLOTHES ON!
Don't be comin' in her room fool!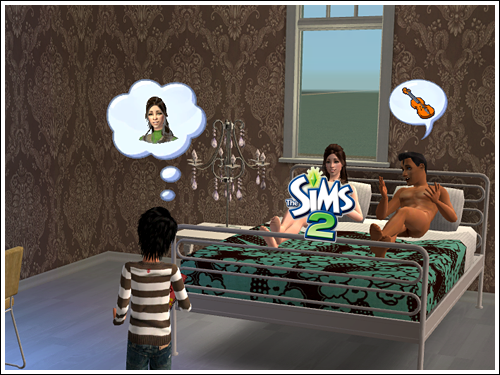 Woohoo!
8/20 ( sorry you missed 7/20 when clipper wasn't working)
This would be Anderson shooing Aaron out of the room.
Oh, so I saved and quit, then came back and look at Alon's face! And the way the twins are sitting lmao.
Anyway! Poor Alon is pissed off, but don't feel sorry for him! He cheated on her too.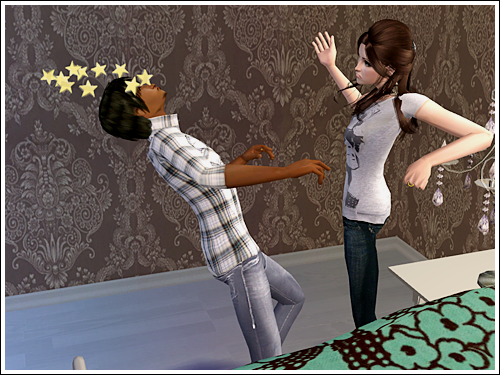 Anderson
:
DON'T YOU EVER SLAP ME AGAIN YOU DUMB BITCH
Alon is steaming mad, I don't think Anderson is crying because she got caught it's because she got slapped, duh (; And..the fake Hugh Hefner.
Anderson :
WOO! GO FAKEHUGH!
Uh, you should be rooting for Alon, anyways check next times update to see who wins! :D